About LITTLA,
Toys

•

Play

•

Party
We are Surat's leading toy store - with the biggest range of toys, games, puzzles, indoor & outdoor games! We are passionate about delivering expert service, product knowledge & most importantly fun.
We believe in providing our customers with safe, quality, mind-expanding toys, games and gifts. We consider the fact that toys are not mere commodity for our customers rather they have emotional connection with them and we make every effort to enhance this emotional value.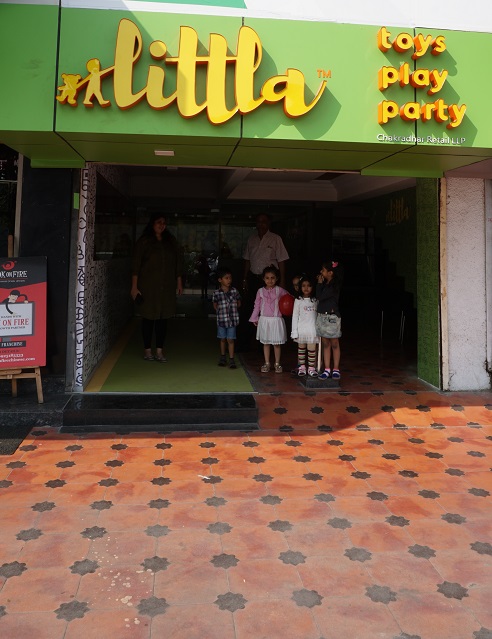 &nbsp&nbsp &nbsp&nbsp &nbsp&nbsp &nbsp&nbsp
We are part of the Chakradhar Group. The Chakradhar Group covers a wide range of businesses such as real estate, automobiles, petroleum, electronics, and more, the Chakradhar group has thrived, delivering and conceiving only the finest results in each of its many endeavors; and this new venture is no exception! The journey into excellence was started by Mr. Chandrakant Bansal, who streamlined the family business, starting off from a modest grocery store, and expanding further into various facets of business. Management Mr. Chandrakant Bansal, the founder, spearheads the Chakradhar Group. Over his illustrious career, Mr. Chandrakant Bansal has strategically driven the company to the celebrated position that it holds among its peers. His brother, Mr. Ajay Bansal - Managing director of the Chakradhar group, drives the real estate detail of the business, adding immense cardinal value to the company. Forming the vanguard is the new generation of Bansals, with Mr. Sagar Bansal, who is known to be a marketing whiz, bringing in some great innovations and business tactic applications. Mr. Anup Bansal handles business development and innovations. Dynamic, Aggressive and a visionary on his own, Mr. Anup Bansal is known to be firebrand who has enjoyed much success in his illustrious career. With the perfect blend of aspirations, innovation, experience, and perseverance towards quality, the Chakradhar Group management is as cohesive as it gets, and is known to deliver.
For more information about our group please visit :&nbsp www.chakradhar.bz